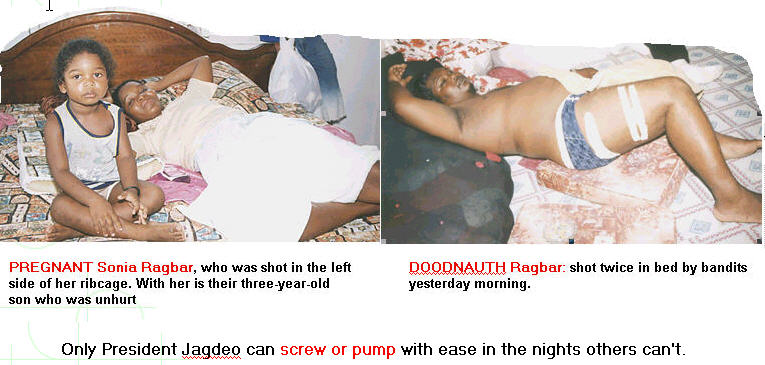 GOPIO Asks Government of India to Take Pro-Active Stand on Human Rights of PIOs Human Rights Experiences: People of Indian Origin in the Caribbean, Americas, Asia, Africa, Europe was the theme of an all-day conference held at St John's University, in Queens, New York on Saturday, March 20, 2004.
| | |
| --- | --- |
| To: | IndianCaribbean@yahoogroups.com |
| From: | "rakesh rampertab" |
| Date: | Fri, 26 Mar 2004 08:46:52 -0800 (PST) |
| Subject: | [IndianCaribbean] On GOPIO Post Conference Press Release...and Guyana |
With respect to GOPIO and Mr. Ramsaran and others who worked hard to 
put this past conference together, I must admit this "Resolution on 
Guyana" is short-sighted and an  immaculate display of a waste of phrases 
and words. 
 
I find it absolutely horrifying that given what Indians have been 
enduring since the 2001 general elections, given the recent resurge of 
criminal activities against Indians, such as that committed the night before 
the very GOPIO conference, involving 15 (yes 15!) armed criminals 
against a lone impoverished Indian family in Lusignan, ECD, and who publicly 
stated their need to acquire cash ( 6 Million) to finance their 
criminal-political program against Indian interest, that GOPIO would give us 3 
(yes 3!) lines!!!
 
GOPIO has to decide whether it will spend its time with the President 
of Guyana/PPP (as occurred earlier this month), which has failed to 
protect all Guyanese, including the Indian electorate which voted it into 
office (unfortunately), or, to come clean with the Indian people of 
Guyana. It cannot do both. Either GOPIO wants to address our issues (issues 
of the Indian population) or that of the standing government. 
 
This half-hearted resolution composed in typical Xeroxed fashion is 
gross disregard to all the crime victims of Guyana, those to become 
victims, and all of us altogether. 
 
As a young Indian Guyanese who attended the GOPIO conference, I am 
shocked at this kind of leadership and representation. This does not speak 
well for my generation.
 
Regards,
 
Rakesh Rampertab
www.guyanaundersiege.com

JUSTICE FOR INDIANS WILL ONLY COME FROM THE BARRELS OF GUNS !
Monday, March 22nd 2004
George Bacchus willing to speak - relative
-but wants firm security guarantee
Friday, March 26th 2004